Posts for tag: tmd
By Drs. Jeff DiMariano & Shaina DiMariano
January 16, 2016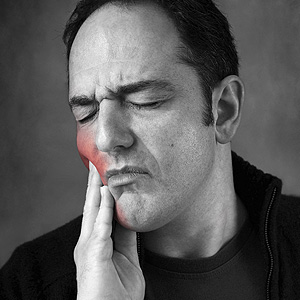 Have you noticed a clicking, popping, or grating sound when you open or close your jaw? As many as 36 million U.S. adults experience this phenomenon in one or both of the joints that connect the lower jaw (mandible) to the skull.
While the sounds may be disconcerting, there's generally no cause for concern in the absence of other symptoms. They're most likely caused by a harmless shift in the position of the disk inside each temporomandibular (jaw) joint, and it can diminish or disappear entirely over time. But, if you're also experiencing persistent discomfort, severe pain, or limited function in your jaw (which can include getting it "stuck" in an opened or closed position), then you may be suffering from a temporomandibular joint disorder — part of a complex set of conditions affecting one or both jaw joints, muscles and/or other surrounding tissues. (You may have heard the condition called TMJ, which is actually the abbreviation for the temporomandibular joint itself. Health care professionals prefer TMJD or TMD.)
Depending on the severity, TMD can interfere with your ability to speak, chew and even make facial expressions. The cause is unclear, but genes, gender, environment, stress and behavior are believed to play a role. It can also be symptomatic of a larger medical problem, such as fibromyalgia, which can produce pain all over the body.
Management Options for TMD
TMD traditionally was viewed as a bite problem (malocclusion) requiring mechanical correction — e.g., through orthodontic braces or surgery. But the current therapeutic model approaches TMD as an orthopedic problem (joint inflammation, muscle soreness, strained tendons and ligaments, and disk damage) and favors a sequence of conservative, reversible procedures — hot or cold compresses in the jaw area, soft foods, physical therapy/massage, medication, and/or a bite guard to decrease pressure on jaw joints from tooth clenching and grinding — prior to more aggressive, irreversible treatment alternatives.
If you would like more information about TMD, please contact us or schedule an appointment for a consultation. You can also learn more about the subject by reading the Dear Doctor magazine articles "Seeking Relief from TMD" and "Chronic Jaw Pain and Associated Conditions."
By Drs. Jeff DiMariano & Shaina DiMariano
January 15, 2015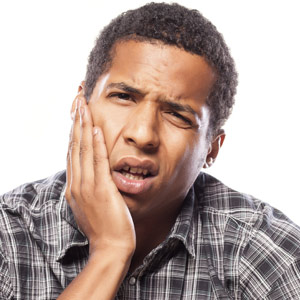 After ruling out other causes for your jaw pain, your doctor or dentist has made a diagnosis: a temporomandibular joint disorder (TMD). With TMD, your pain symptoms and other dysfunctions are due to a problem associated with the temporomandibular joint (TMJ) that connects your lower jaw (mandible) to your upper skull (cranium).
There are a number of treatment options, but most can be classified as either aggressive or conservative. Aggressive treatments are more interventional and target problems with the teeth such as bite problems or jaw relationships as they relate to the bite, which are thought to be underlying causes for TMD. Such treatments include orthodontics to realign teeth, crown or bridgework, or surgical treatment to the jaw or joint itself. These treatments are controversial and irreversible — with no guarantee of symptom relief.
It's thought by many to be appropriate, then, to start with more conservative treatments. Many of these are based on treating the TMJ — which is a joint, a moveable bony structure connected by muscles and tendons — with an orthopedic approach, using treatments similar to those used for other joint problems.
Here, then, are some of those conservative therapies that may relieve your TMD pain and other symptoms.
Physical Therapy. Commonly used to treat pain and dysfunction in other joints, physical therapies like manual manipulation, massage, alternating hot and cold packs or exercises can be used to relax, stretch or retrain the muscles that operate the TMJ while reducing pain and inflammation.
Medications. Medications may be incorporated into the treatment plan to relieve pain, reduce inflammation or relax tense muscles. Besides prescription drugs, over-the-counter anti-inflammatory drugs (such as ibuprofen or acetaminophen) are also commonly used.
Bite Appliances. If night-time teeth grinding or clenching habits are a primary cause for the TMD, you may benefit from wearing an occlusal bite guard while you sleep, designed to specifically fit your upper teeth. Because the lower teeth can't grip the guard's smooth plastic surface when biting down, they'll more likely produce less force. This gives the jaw muscles a chance to relax during sleep.
Diet changes. Changing to softer foods, which don't require strenuous chewing, and eliminating the chewing gum habit will further help reduce stress on the TMJs and also give your muscles a chance to relax and heal.
If you would like more information on TMD and treatment options, please contact us or schedule an appointment for a consultation. You can also learn more about this topic by reading the Dear Doctor magazine article "Seeking Relief from TMD."
By Drs. Jeff DiMariano & Shaina DiMariano
September 18, 2012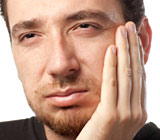 Temporomandibular Disorder (TMD), which was formerly known as Temporomandibular Joint Disorder (TMJ), is an interesting condition because it can be hard to diagnose and often mimics many other conditions. It arises when there are problems inside the temporomandibular joint, and the muscles attached to it, causing pain. When treating TMD, we typically start by relieving the symptoms of pain and discomfort with heat, mild pain medications, a diet of soft foods, and some simple jaw exercises. We feel that it is critical to address your pain issues as soon as possible before preceding any further with treatment.
Once we have provided some pain relief and after having completed a thorough history and examination, we can move to the next phase of treatment. This may include the introduction of a bite guard or some form of oral appliance therapy. A bite guard is an unobtrusive yet rigid plastic horseshoe-shaped appliance that fits snuggly over the biting surfaces of the upper teeth. When in place and properly adjusted, this custom-made appliance allows your muscles and therefore jaw joints to relax. And it will prevent you from grinding your teeth, another contributing factor to TMD. We will probably ask you to wear it when sleeping or in times when you are feeling stressed when clenching or grinding habits may be active. We may also suggest that you obtain some relaxation therapy and/or biofeedback from a licensed therapist, as this can prove helpful in treating TMD.
If you have suffered from frequent jaw pain in the past and suspect that you may have TMD, please let us know so that we can address it at your next appointment. Or if you are currently in constant or severe pain, contact us immediately to schedule an appointment. You can learn more about the signs, symptoms, and treatment options for TMD by reading "TMD — Understanding The Great Imposter."