Posts for tag: common symptoms
By Drs. Jeff DiMariano & Shaina DiMariano
March 18, 2013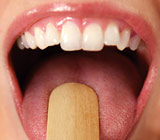 Bad breath, medically known as halitosis ("halitus" – breath; "osis" – disorder) is an unpleasant condition that can negatively impact your personal and business relationships. It's more than just embarrassing! In fact, one recent survey found that three out of five people would rather work with someone who talks too loudly than with someone who has bad breath! Gum, mints and mouth rinses can temporarily remedy the situation, but not cure it permanently. So how much do you know about the underlying causes of bad breath?
The following true/false quiz will help you discover, while learning more about bad breath.
Questions
The most common orally related sites associated with bad breath are the tongue and gums.
Systemic (general body) medical conditions can't cause bad breath.
Bad breath is always worse in the morning.
Effective treatment depends on the underlying cause of the disease.
Dentists can do very little to diagnose the cause of bad breath.
Answers
True. The back of the tongue and diseased gums can become repositories for bacteria. In the case of the tongue they are from left over food deposits and even post-nasal drip. Bad breath that emanates from the tongue has a "rotten egg" odor caused by volatile sulfur compounds (VSCs).
False. Medical conditions can cause bad breath including lung infections, liver disease, diabetes, kidney infections and cancer.
True. Saliva flow decreases during the night making the mouth feel dry, and giving you that typical "morning breath" taste and odor upon wakening.
True. As with any medical condition, uncovering the origin will dictate appropriate treatment. For example, tongue scraping or brushing can help eliminate odor that originate from the tongue. If the cause is disease related, the disease will need to be treated to control associated bad breath.
False. There are several things dentists can do starting with a thorough medical history and oral examination. For example, decayed or abscessed teeth, diseased gums, coated tongue or infected tonsils are all common oral causes. We can also conduct breath tests to determine if the odor is emanating from the mouth or lungs, and test to determine the level of VSCs in the mouth.
Learn More
Worried about bad breath? Are you ready to trade your breath mints for a more permanent solution? Call our office today to schedule an oral examination. For more information about the causes of bad breath, read the Dear Doctor magazine article "Bad Breath: More Than Just Embarrassing."
By Drs. Jeff DiMariano & Shaina DiMariano
October 31, 2012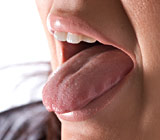 Considering that over 90 million Americans suffer from chronic bad breath and everyone else has dealt with some form of it at one time or another, we want to address some common causes and cures so you are prepared if it happens to you.
What are the most common causes of bad breath?
Halitosis or bad breath most often occurs when you have poor oral hygiene and/or routinely consume odorous foods and drinks. In fact, 90% percent of mouth odors come from the food you eat or bacteria that's already there, according to the American Dental Association. Other causes for halitosis include:
Excessive bacterial growth in the mouth and especially on the tongue
Known and characteristically odor producing foods and drinks such as onions, garlic, coffee, tobacco and alcohol products
Diabetes and diseases of the liver and kidneys
A poorly hydrated body (and mouth) from not drinking enough water everyday
What should I do if I feel (or people tell me) I have chronic bad breath?
Contact us to schedule an appointment for a proper diagnosis and plan of action for returning your mouth to optimal health.
What are some tips I can do to prevent occasional bad breath?
In most cases, bad breath is totally preventable when you follow the tips below:
Brush your teeth in the morning and at bedtime using a fluoride toothpaste and a proper (and gentle) brushing technique.
Floss your teeth at least once a day.
Clean your tongue after brushing your teeth with either a scraping tool you can purchase at a drug or discount store or by gently brushing it with your toothbrush.
Keep your mouth moist by drinking plenty of water during the day.
Be prepared by having some mouth cleaning tools (floss, a toothbrush, toothpaste or some sugar free gum) handy to freshen your mouth after consuming bad smelling foods, drinks or using tobacco or alcohol.
Eat fresh fruits and vegetables to increase saliva production in your mouth and help remove food particles that can lodge between teeth.
Maintain regular dental check-ups.
Want to learn more?
Contact us today to discuss your questions or to schedule an appointment. You can also learn more about halitosis by reading the Dear Doctor article, "Bad Breath — More than Just Embarrassing."